Quote (DiEb @ Oct. 22 2018,13:55)
Quote (Bob O'H @ Oct. 22 2018,09:28)
 

Quote (stevestory @ Oct. 21 2018,13:02)
 

Quote (Jkrebs @ Oct. 21 2018,13:33)
   

Quote (stevestory @ Oct. 20 2018,15:49)
BarryMath:

     

Quote
Saturday Fun: When the Lottery Bet Has a Positive Expected Value
October 20, 2018 Posted by Barry Arrington under Intelligent Design
No Comments
This is one of those very rare times when the lottery bet has a positive mathematical expected value. Expected value is calculated as: (Amount possibly won * probability of winning) minus (Amount of bet * probability of losing).

The probability of winning Mega Millions is 1 in 302,575,350. The next jackpot is $904 million (cash value of $1.6 billion annuity). The expected value is ($904,000,000 * 1/302,575,350) minus ($2.00 * .9999999999999999999) = $0.98.

This means on average in the long run, for every $2.00 ticket you buy, you would expect to win $2.98 if the jackpot were always $904 million. ¬†Of course, you still lose the whole $2.00 every time you lose, which is almost always. ¬†Still, on average, over the long run, the expected value is positive ($2.98 'Äď $2.00 = $0.98).

In the long run, it is a good bet. Of course, the problem is there is no long run. You only have a single shot at it. To achieve the long run average expectation, you would have to play several hundred million times.



he's not doing the math right.


Hmmm. What's wrong with Barry's math. Is not the expected value for a ticket $0.98???


his analysis is missing a few terms. Taxes reduce the EV, and he's got no terms for winning a lower pot cuz multiple winners.


Plus, he then writes
 

Quote
This means on average in the long run, for every $2.00 ticket you buy, you would expect to win $2.98 if the jackpot were always $904 million.



Oolong mentions multiple winners (at least I think that's what they are getting at). And, from a quick approximation, you would need about 200m tickets sold to have a 50% chance of someone else having the same number as you.

(I'm assuming everyone chooses their numbers randomly, which is of course wrong)

First, there is a glaring mistake which just shows a lack of understanding - though it does not change the result:  
Quote
The expected value is ($904,000,000 * 1/302,575,350) minus ($2.00 * .9999999999999999999) = $0.98.
No, you have to pay for the ticket even if you are winning, so it should be    
Quote
The expected value is ($904,000,000 * 1/302,575,350) minus $2.00  = $0.98.


Then, there are a lot of important details which are omitted:

1) You can win fixed prices of $2 up to $1,000,000 ( http://www.megamillions.com/how-to-....to-play ) Those add up to an expected win of $0.255

2) The size JP of the jackpot depends on the number N of tickets sold: according to wikipedia "Approximately 60% of Mega Millions sales is returned to players as prizes;", so each ticket should add an expected .6*$2 - $0.255 = $0.945

The "expected jackpot" is now at $1,600,000,000, up from $868,000,000. But that is misleading - it's the annuity version. According the mega millions, the cash-option represents "A one-time, lump-sum payment that is equal to the cash in the Mega Millions jackpot prize pool." It seems that this is 56.5% of the numbers above, so the cash went up from  $490,000,000 to $904,000,000 - indicating 438,000,000 tickets sold. Sounds plausible

3) The probability that you have to share the jackpot depends on N, too: the number of winners of the jackpot follows the binominial law, but in this case it can be modeled by the Poisson distribution. If your chance of getting all numbers right is 1/302,575,350 = 1/Q, the the probability that you are the only winner is  exp(- N/Q) That's 23.5% with N=438,000,000.

4) Your expected share of the jackpot is JP/N * (1 - exp(- N/Q)) With N=1, that's $2.99, with N=438,000,000, that's $1.58

5) The expected outcome of buying a single ticket for $2 is thus $1.58 + $ 0.26 - $2 = -$0.16

6) This result is more realistic than Barry's, though it still ignores taxes - and assumes that there is only the standard ticket.

7) I don't think that this is a good example for gambler's ruin: the probabilities involved are so small. A more interesting question is: would it be a good investment of $601,150,700 to buy every single combination?

a) The cash-value of the jackpot should increase by $286,000,000 to $1,190,000,000

b) You are certain to regain $77,175,499 in direct wins

c) You are certain to take part in the jackpot, but your expected part is "only" $629,000,000 (assuming 438,000,000 other tickets out there)

So, you would get back $706,000,000, that's 17.4%  on your capital. Unfortunately, there will be taxes.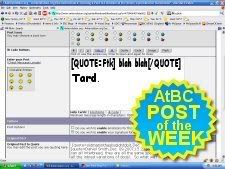 Thanks for the PotW - that was a nice surprise!

According to http://www.lottoreport.com/ticketc....son.htm , 370,171,655 tickets were sold. The jackpot was 1,537,000,000, so the lump sum is about 870,000,000.

I overestimated the number of tickets, so that the expected share of the jackpot was $1.66 instead of "only" $1.58

Still, the expected outcome of buying a single ticket for $2 was negative: $1.66 + $ 0.26 - $2 = -$0.08